Women's European Fashion advice for traveling in Europe. What clothes to wear in Paris, London, Barcelona, Madrid, Amsterdam, Berlin & other cities.
After living in Paris for nearly two years, I'm still amazed at how well European women dress. It is rare to see anyone who isn't well-dressed — even if they're just buying some milk from the grocery store. We lived down the block form an elementary school and every day we'd see moms with high heels and skirts pushing their strollers down the street.
That's why I thought I would share some of my women's European fashion observations from living in Paris and from my travels throughout Europe. Hopefully, these fashion tips will help you choose which clothes to bring on your next trip and give you an idea of how to dress like a European.
Note: Most of my observations are from Paris since this is where I've lived the most, but Parisians are considered some of the best-dressed people in Europe, so they are a good group to take fashion advice from.
THE GOLDEN RULES FOR WOMEN'S EUROPEAN FASHION
Honestly, there are no "rules" and there really isn't a true "European" fashion. You've probably heard that Parisians only wear black, but if you walk around the streets of Paris you'll see fashionable people wearing all kinds of colors.
That's why this guide will highlight the general fashion trends that I've observed but I urge you to add your own personal style into your clothing choices. My main goal is to give you a taste of European fashion and to provide you with some ideas of what you might want to wear when you visit.
Europeans live in shoebox-sized apartments but they still manage to have an amazing collection of great shoes.
European women, especially city-dwellers, live in high heels. But beware… these fashionistas have years of practice navigating cobblestone streets and tricky city sidewalks, so you might find yourself really struggling if you choose to wear a pair of sexy stilettos. Wedges are also a very popular and a bit more practical option since they offer extra walking surface.
No shoe collection is complete without a few pairs of boots. During the winter, you'll see tall leather boots everywhere, but cute ankle boots are a popular choice during the rest of the year. Check out our guide to Best Waterproof Boots for Women to some cute and comfortable boots.
When the weather gets warm, it's time to break out the lightweight shoes. Strappy leather sandals, flats, loafers, and casual sneakers are all great choices.
That said… if you're going to be traveling to Europe, I suggest leaving the uncomfortable shoes at home. But that doesn't mean you need to bring ugly running shoes. I suggest a pair of cute sneakers, flat boots, and a pair of comfortable sandals. If you do bring a pair of impractical shoes for going out, make sure they're not going to kill your feet (blisters are no fun). Also, remember that a quality set of Superfeet insoles can make shoes more comfortable.
Check out our guide to travel shoes for some examples of fashionable and comfortable sneakers, boots, sandals, and more. 
TRY PACKING LIGHT
Being fashionable and packing light doesn't always mix but it's important to be smart about what you pack because lugging a huge suitcase around Europe is a terrible experience. Of course, if you take taxis everywhere then things become easier.
I'm not saying you absolutely need to limit yourself to a carry-on size piece of luggage but you'll be happier without a monster-sized suitcase.
GENERAL CLOTHING TIPS
Create A Capsule Wardrobe: A capsule wardrobe is basically when every piece of clothing you bring can be paired with multiple other items.

For example, one shirt can match three pairs of pants/skirts. The idea is that you can bring less individual items but still have many outfits.
Solid, neutral colors are easier to match so consider items like that.

Limit "One Off" Items: It's fine to pack someone that you're only going to wear once or twice but you'll want to limit this to avoid overpacking.
Low Maintenance Clothing: Travel can be tough on clothes so try avoiding things with special washing instructions — like dry-clean only.
Accessorize: Simple things like scarves or a necklace is an easy way to change up your wardrobe.
Buy Something in Europe: Europe is home to amazing shopping so you can always buy more clothes when you're traveling.
RECOMMENDED TRAVEL CLOTHING & BRANDS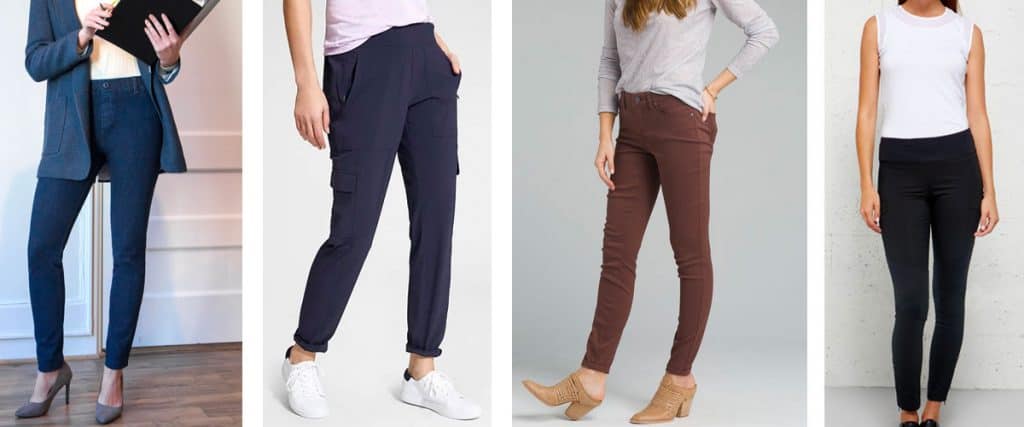 There are a number of brands that make clothing specifically for travel. They use special fabrics that are durable, resist wrinkles, help prevent odors, and are also fashionable.
TRAVEL TOPS, DRESSES, AND BOTTOMS BRANDS
It's hard to find fashionable travel clothing but these brands offer some cute options (although some of the stuff still looks a little "outdoorsy" so you might need to search a bit). Will you look like you're shopping at Dior? No. But you won't look like you're hiking a mountain or just coming back from yoga class.
Betabrand: Dress yoga pants. Yes. You heard us right.
Athleta: Athleta has really stepped up their travel clothing and they have a lot of solid options. Some of their offerings feel like yoga clothes but there are some non-yoga choices.
Lululemon: Lululemon has a number of good travel clothing options. Again, many of their options look a little too "athleisure" but there are some nice looking choices.
Prana: Prana is a company that has traditionally made outdoorsy clothing but they've recently started making more fashionable items.
Anatomie: Anatomie has a bunch of higher-end clothing that looks really nice. Stuff from Anatomie is expensive is the main downside.
Uniqlo: Uniqlo always has a few great travel clothing options that are friendly on your bank account. Their stock is always changing so be sure to check them out.
TRAVEL SHOESAhh, shoes… they're one the hardest things to pack. I try to limit myself to two pairs but sometimes I take three. It's impossible to narrow it down to the "best" shoes but I'll list a few brands/options that I really like. Also, check out our guide travel shoes for more recommendations.BENSIMON sneakers are super cute and casual sneakers that are popular in Europe. I've seen lots of trendy Parisians wearing them during the summer. These shoes are a bit hard to find in the US but Superga and Keds both make shoes in a very similar style —so they're a great alternative that's also easy to find.especially their Soft VII shoes.You've probably already heard of Allbirds shoes. They're made of wool — which sounds kind of weird but it actually works well. They are comfortable and you can wear them without socks (one of the benefits of wool is odor prevention). And they are crazy lightweight so they're easy to pack away. They come in multiple colors and cost $95. Available via Allbirds.They also have their new Tree Skippers that are made from sustainably harvested eucalyptus pulp so they're a bit cooler than their wool counterparts.A nice pair of comfortable flats is a nice option since they take up very little room and they look a little nicer than sneakers. The Born Julianne is a pair I own because they look nice, provide decent arch support, and come in multiple colors.
Even athletic shoes can be fashionable — check out the Nike Flex, Nike Free, New Balance Arishi and the Adidas Running and Adidas Originals series. All of these are sporty and fashionable.Nike and New Balance are popular all over the world and both companies make plenty of fashionable sneakers.